Vanderbilt University Travel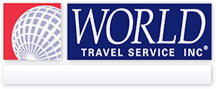 Vanderbilt's travel agency of record is World Travel Service (WTS). Their dedicated
professionals will help faculty and staff with travel needs by providing personalized support
via phone or email. Vanderbilt employees must use World Travel Service to book business
travel. Employees may book directly with an agent or through the Concur online booking tool.
World Travel is fully integrated with the Concur online travel booking tool.
Please contact a World Travel agent when making complex domestic air or any international air reservations, and when changing existing, ticketed reservations.
Think you've found a lower fare? World Travel Service has a price match guarantee on identical U.S. Domestic flights. We'll match the fare or pay the difference. Just provide a screen-shot or verification in real-time, same day and email it to a World Travel agent. Consolidator and auction websites not included. Please click here to download the low domestic fare guarantee.
  World Travel Agent Assistance:
During business hours (7:00am-6:00pm EDT) dial (877) 271-9258 or email vanderbilt.travel@worldtrav.com
After business hours or for ticketing emergencies dial (865) 777-1600.
  Login Assistance:
  Concur Travel Technical Support:
  Travel Policy and Booking Questions:
Travel Resources
Concur Quick Guides
Vanderbilt Resources
Other Resources